A Physical Day 1
June 26th, 2023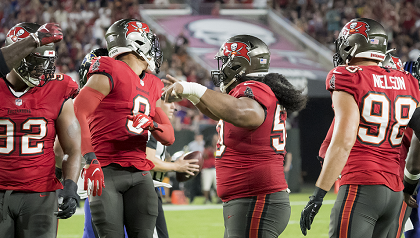 To help fix the Buccaneers' running game, Tampa Bay added a veteran running back who scampered for 245 yards and two touchdowns last season.
Ironically, the Vikings, the Bucs' opening day opponent, will be passing the torch from Dalvin Cook to a running back who had 283 yards and five touchdowns last season.
Yes, teams around the NFL are turning to unproven running backs. And the Vikings and Bucs are two clubs going all-in.
The veteran the Bucs added was Chase Edmonds, who is known most for being a passing-game threat with the Cardinals (2018-2021). The Vikings re-signed their own free agent, 25-year-old Alexander Mattison, who didn't prove to be special in four years of work.
Mattison was on CBS Sports Radio last week and responded this way when asked to describe his game as a 5-11, 215-pound running back.
"A downhill, fast and physical back. I play with violent knee drive and I bring physicality and sneaky elusiveness," Mattison said. "And I think that when you see me step on that field and see me play, that's exactly what you'll see."
The Buccaneers run defense of 2019, 2020 and 2021 would have eating a guy like Mattison for lunch, but the run defense fell off last season and the Bucs will be relying on a lot of new faces in September.
While Mattison will be crazy motivated to prove himself, Joe remains very grateful Cook and his opening-day fresh legs have a new team.
Mattison added that while the Vikings have lost a lot of talent, he says the new defense under Brian Flores already looks "scary" and the doubters need to "tune in" and "get ready for a great season."