So What's The Offense Going To Look Like?
May 24th, 2023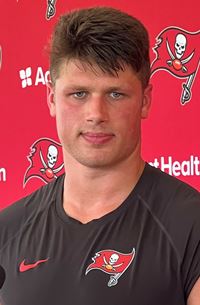 Joe knows the onslaught is coming.
So far, Joe has seen three underwear football practices. Two at Bucs rookie minicamp, the other was OTAs with both veterans and rookies.
What can Bucs fans expect from the new offense? Joe knows that question is coming. So Joe will leave that up to the words of Bucs tight end Cade Otton.
"With this offense in general, there will be more bootlegs," Otton said after OTA practice yesterday. "That poses different challenges and getting the ball to different places."
If Joe is to judge what the offense will look like after just two underwear football practices, this offense seems like it will be more horizontal than vertical. Fantasy football folks may want to consider taking fliers on Deven Thompkins or Trey Palmer (especially since Russell Gage is hurt, again!), not necessarily for their receiving abilities.
It's been a long time since Bucs fans have watched their team have its quarterback and receivers attack the flat and have a moving pocket. Probably not since Chucky was here.