Low Expectations?
May 4th, 2023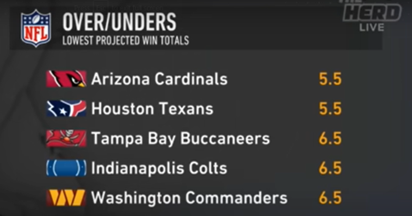 The conclusion of the NFL Draft means a reset of over/under win total lines at sportsbooks around the country.
For some reason, the oddsmakers believe the Bucs' outlook is grim in the subpar NFC South.
The graphic above was shown on the FS1 network during a discussion of the new over/under lines. The Bucs are among the NFL's five projectd bottom-feeders.
Joe thinks the Bucs have no excuse not to win at least eight games this season.
Add it up. A remotely acceptable division record is 3-3. The Bucs play the weak AFC South this season, so a minimum result there should be 2-2. That leaves seven remaining games against prettty strong competition, but included there are home games against the Bears and Lions.
Is a 2-5 record acceptable in those other seven games? Of course not.
So by Joe's math, head coach Todd Bowles and his squad need at least eight wins for respectability — as Joe relaxes on May 4 while mowing down Hooters wings and Big Storm beer.
Every NFC South team won at least seven games last season. So Joe likes the Bucs' chances of busting that 6 1/2 win total line.
There's too much talent on the Bucs roster to implode completely, and it's difficult to lose a ton of games with a strong defense. And Todd Bowles has no excuse not to have a strong defense unless Devin White sits out games in a contract protest.