Lonely Lenny
May 23rd, 2023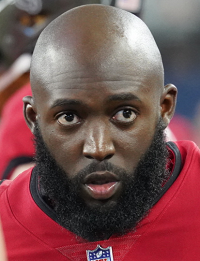 Yes, the Buccaneers' leading rusher last season has no football team. But he appears to want one badly.
Leonard "Lombardi Lenny" Fournette is busting his butt training and released a heavily-produced video yesterday on Twitter yesterday to show the world he's hungry. "Some roads you gotta take alone. No friends, no family, just you & God," Fournette wrote.
Times are tough for veteran running backs. Teams want the cheaper version in the draft. Heck, Hall of Fame general manager Bill Polian regularly preaches that clubs shouldn't be afraid to draft a running back in Round 1 — "just don't give him a second contract," he says.
At 28 years old coming off a nothing-special season, Fournette has made his money and surely is waiting on a job that pays more than the veteran minimum plus incentives.
And Joe can't blame the guy. Say what you want about Lenny, but his 262 total touches for 1,191 yards and 6 touchdowns last season represent significant output. And he didn't fumble.
Fournette will find a job before opening day, Joe believes, though he might have to wait until Dalvin Cook and Ezekiel Elliott finalize their 2023 destinations. The only safe bet is that Fournette won't play in the NFC South. The teams there not named Tampa Bay are loaded at the position.
Some roads you gotta take alone. No friends, no family, Just you & God pic.twitter.com/WqJr39ocpt

— 7⃣ Leonard Fournette (@_fournette) May 22, 2023