Justifying High Hopes For Baker Mayfield
May 30th, 2023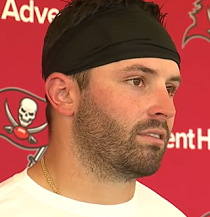 The high priest of the PFF Tribe, aka Pro Football Focus, weighed in today with an expanded statement on Baker Mayfield.
Joe realizes some readers and fellow NFL media are devoted followers of — and donors to — the PFF cult, so Joe paid attention in order to share here.
Sam Monson is that high priest. He's the chief football analyst for the PFF Tribe and often addresses the world on a company podcast.
Today, Monson focused a major reason for the Bucs to be optimistic about this season: Baker Mayfield.
Seemingly right on cue, Monson pointed to Mayfield's 2020 season grade from the PFF Tribe analysts. Per Monson, Mayfield got an 85 for that season, a higher score than the 2022 editions of Justin Herbert, Kirk Cousins, Tua Tagovailoa, Geno Smith and Tom Brady.
"Baker Mayfield is clearly capable of high-end NFL play," Monson said. "It's just getting further and further in the rear view mirror as his career falls apart around him. But the reason for [Bucs] optimism would be if they're able to rediscover that player over the offseason."
Monson then appeared to dip back into tribal grades to tell listeners the Bucs' O-line should be fine this season, even if it's not quite as good as last season.
And he added Mayfield has strong receivers and what should be a much improved scheme.
"There's no reason that player in Baker Mayfield can't be rediscovered. I've just given up looking for it," Monson declared. " …We know that player's in there. He had the rookie record for touchdowns until Justin Herbert came along and broke that."
Joe knows Mayfield represents a QB capable of excellent play, and that's what's exciting. But there's an awful lot to prove and Mayfield, or Kyle Trask, will get very little rope. Whoever starts will be expected to thrive on Day 1.