Interceptions A Looming X-Factor
May 7th, 2023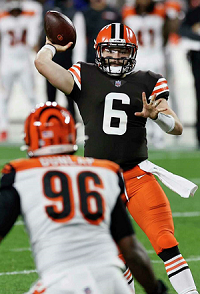 Fun facts: Jameis Winston, the former "America's Quarterback" of the Buccaneers, led the NFL with 30 interceptions back in 2019.
That got him fired, but the Bucs quarterback the following season tied for the league lead in interceptions.
Bucs fans may remember that guy. It was Tom Brady.
Brady had 15 picks in the 2020 season. The Goat had mastered the no-risk-it-no-biscuit offense while Jameis mastered giving away too many biscuits.
Total picks have dropped across the NFL in recent years, in part because the league has enacted rules that don't let you breathe on QBs without a penalty.
Don't think that's true? Consider that the last guy to throw more than 20 picks in a season not named Jameis was new Bucs quarterback Baker Mayfield, 21 interceptions with the Browns in 2019. Before that, it was the guy Mayfield replaced, DeShone Kizer (22) in 2017.
In 2016, it was veteran Phillip Rivers giving the ball away like Halloween candy, leading the NFL with 21.
After that, you have to jump all the way back to 2013 to find a sea of interceptions. Eli Manning led the NFL with 27, followed by 22 for Andy Dalton, 22 for Joe Flacco and 22 for Carson Palmer, who was in his first season with Bucco Bruce Arians' no-risk-it-no-biscuit offense in Arizona.
As Joe stated, interceptions are down — in a league increasingly dominated by passing.
Joe assumes Mayfield will win the Bucs' starting gig over Kyle Trask. And when (if?) he does, interceptions are going to be a huge X-factor this season. Interceptions drive most coaches insane, especially defense-first head coaches like Todd Bowles.
Joe is somewhat concerned considering Mayfield will be a brand new offense with new receivers, and the Bucs don't have the punishing rushing attack Mayfield was used to Cleveland.
Mayfield has 64 picks in 69 career starts. Not so good. Jameis has 96 picks in 80 career starts. Dreadful.
Joe pulled a few other guys for perspective — and for fun. Former Bucs gunslinger Josh Freeman had 68 picks in 61 career starts. Dak Prescott has 65 picks but in 97 career strarts. New Saints quarterback Derek Carr has 99 picks in 142 starts.