Freedom Rings For Antoine Winfield, Jr.
May 30th, 2023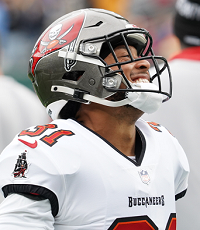 Safety Antoine Winfied, Jr. is always quick with a smile, but his grin seemed to have a little extra juice today at One Buc Palace.
Winfield was asked following practice about head coach/defensive guru Todd Bowles relocating him back to a safety-only role following lots of time at nickel cornerback last season.
"I'll probably be in the middle of the field more. So I like having that freedom to just roam around and be in the middle of the field and have that presence all over," Winfield said.
Specifically, Winfield will be at the free safety position.
Bowles noted earlier this year that he liked how Winfield played at slot corner but given that Winfield is a ballhawk, Bowles believes the Bucs need more turnovers and that goal is best achieved with Winfield playing more center field.
Don't worry, Bucs safeties coach Nick Rapone later added, Winfield is the Bucs' best blitzer among defensive backs and he'll be doing plenty of that this season.