Devin White Feelings Are Normal; His Actions?
May 22nd, 2023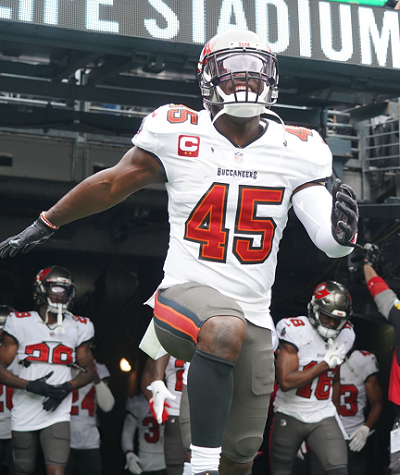 Trade-me, love-me, you-misunderstand-me linebacker Devin White wants out of Tampa and wants in at the same time.
A former Buccaneer says that's normal.
Joe is referencing the wise words of retired quarterback Shaun King, one of four quarterbacks to lead Tampa Bay to the NFC Championship game.
King says White's historic start to his career meant the microcsope was coming for him quickly, and White didn't live up to his early glory. "I thought there were times when he didn't play with his hair on fire," King said of White's play last year, citing inconsistent performances.
King continued, via the WDAE airwaves last week, to say White's inner contract turmoil is sort of normal.
"Every good player goes through what Devin is going through. 'I'm on the back end of my deal. If they really like me and want me, they'll extend my deal and give me a big bonus,'" King said. "And when they don't do that, as a player, it always makes you look sideways at the organization."
Joe agrees with King, but not every player goes public with his beef. And not every player is due $11 million+ in the final year of his deal, which White is now.
For the average Joe and the average NFL player, moaning about a guaranteed $11 million doesn't prompt a lot of empathy.
Joe hopes White and the Bucs work things out, but Joe suspects nothing will happen until this season ends are the Bucs are confident Todd Bowles is returning for his third season as head coach. It's well documented what Bowles thinks of White.