Bucs' 2023 Season Is Final Chapter Of Tom Brady's Legacy
May 22nd, 2023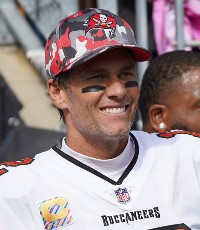 NFL fans know what happened when Tom Brady left the Patriots and headed to Tampa.
The old debate fired up hotter than ever.
Who was more important to New England's success, Brady or Bill Belicheat? The question was asked across the nation.
The answer came in a hurry. Brady won the Super Bowl in his first Bucs season while Belicheat finished 7-9 with Cam Newton at quarterback and a defense that faded late in the season.
But while Joe thinks Brady is the greatest quarterback of all-time, Joe believes Brady still has one more season of judgment before him. Fair or not, there will be scrutiny of Brady based on how the Bucs perform in their first season without him.
Tampa Bay was 8-9 last season with few pointing a finger of blame at Brady himself. Joe doesn't hang a lot of blame on Brady for the Bucs' sad 2022 offense, but The Goat's great influence appeared impotent when it came to improving the Bucs' stale playcalling and their energy late in the season.
It was as if The Brady Effect had its plug pulled for no apparent reason.
So Joe thinks Bucs fans — and Brady fans — should prepare themselves for darts being fired at Brady if the Bucs are as good or better than they were last season with Baker Mayfield and/or Kyle Trask starting at quarterback. (Still plenty of Brady haters around the country.)
And if the Bucs stink, well, the Brady gushing won't stop flowing all year.