Data Dumps On Baker Mayfield
May 23rd, 2023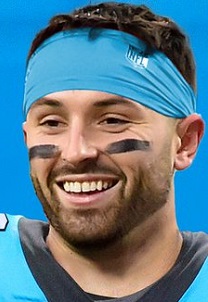 Joe sure hopes Baker Mayfield has a great 2023 season. Not only would that mean the Bucs are a good team, but it would send the stats nerds scrambling like roaches that caught a flashlight beam.
Consider this gem from Larry Holder, the former Saints beat writer turned columnist and data guy for TheAthletic.com.
"Every Baker Mayfield metric suggests his play is not starter-quality," Holder wrote as part of a data deep dive on quarterbacks that was loaded with annoying acronyms.
"His passer rating did improve 12 points from his time with Carolina (74.4) to his time with the Rams (86.4) last season. And maybe an entire offseason with a team could benefit the 2018 No. 1 pick since Mayfield didn't touch the field with the Panthers until training camp a year ago."
Yes, the stats faithful largely think Mayfield is hot garbage and claim they will put Kyle Trask in the same Hefty bag if he can't win the starting job from Mayfield this summer.
Joe won't argue the data on Mayfield, but he also comes with many variables/excuses on his résumé.
It's not like this guy was playing for well-run organizations before he landed in Los Angeles, where he did a solid job when thrown into the fire.