Chris Godwin Delivers Cold But Exciting Reality
May 24th, 2023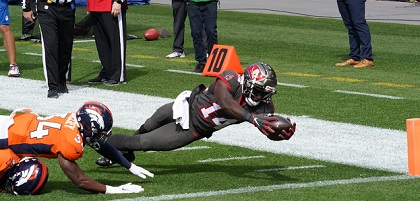 A lost stat of the 2022 Buccaneers season is Chris Godwin catching 104 balls for 1,023 yards in just 15 games.
Godwin got the job done despite starting the season only eight-plus months removed from major knee surgery (ACL), and then he missed games with a September hamstring issue. Still, Godwin racked up all those catches, two shy of the Bucs' single-season record (Keshawn Johnson in 2001).
What a testament it was to Godwin's drive and rehab discipline. But what makes it even more exciting is Godwin saying yesterday that he's now — not then — "very close" to being as explosive as he was prior to the injury in December of 2021.
That got Joe jacked up. Remember, it was a few years after ACL surgery that Cooper Kupp tore up the NFL with 145 catches for 1,947 yards and 16 touchdowns in the 2021 season.
Joe is not saying Godwin will post historic numbers like that in 2023, but he's in his prime at 27 years old and has the talent.
Kupp was 28 when he posted that magical season, and Godwin will have plenty of single-coverage opportunities with Mike Evans on the field and defenses gearing up to stop the Bucs' running game.
To win the NFC South, the Bucs likely will need one of their stud receivers to have close to a career year.
Why not Godwin?
---
Dial up The Ira Kaufman Podcast. Ira was at the first OTA practice of the season Tuesday and has plenty to share, on that and more.