Chris Godwin "Can Stretch The Field"
May 11th, 2023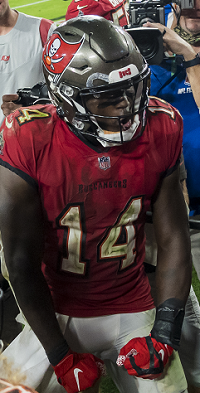 Stop thinking Chris Godwin won't be a beast of an outside receiver, one that can strike fear in the hearts of defensive coordinators trembling at the thought of allowing big plays.
That was the message yesterday from new Bucs receivers coach Brad Idzik.
Does Godwin still have the 4.42 speed he clocked at the NFL Scouting Combine back in 2017 (before they installed the faster turf at Lucas Oil Stadium)? Idzik seems to think so.
Bucco Bruce Arians turned Godwin into a slot receiver and his career exploded in 2019. Idzik and new Bucs offensive coordinator Dave Canales see Godwin as more of a traditional 1b receiver that can cause problems outside, too. Joe agrees.
"He can stretch the field and that's what I want to continue to remind him," Idzik said of Godwin.
Idzik said Godwin already has shown in limited spring practices that he's a handful as an outside receiver, "He's a problem 1-on-1."
Godwin's slot ability is a bonus and a benefit skillset that the Bucs plan to use, too, Idzik said. He added that the Seahawks were working with D.K. Metcalf to get him to be more versatile like Godwin already is.
Joe believes in Godwin at 27 years old and nearly 18 months removed from his major knee injury, and coming off a 100-catch season.
While Joe doesn't know if Godwin has the elite ball-tracking skills of the league's top deep threats, Joe is more than willing to see that put to the test.