Baker Mayfield Sees A "No-BS" Bucs Team
May 23rd, 2023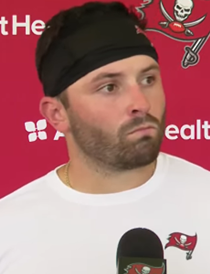 Baker Mayfield isn't sniffing the stench of the Browns organization before it hired sleazy Deshaun Watson to replace him.
And Mayfield isn't detecting his 2022 Carolina team that actively tried to tank it season.
In Tampa, Mayfield likes the aroma coming off his teammates, coaches and general manager Jason Licht.
Speaking after spring practice today at One Buc Palace, the Bucs' likely starting quarterback reflected on his past and shared how pleased he is about what he sees at his new home.
"I've always been pretty highly competitive," Mayfield said. "It's just, if I was to tell you when I first got drafted that I was going to draw up my career and I was going to end up in Cleveland, I probably would've told you how it was going to go. But that's not how it shook out. That wasn't God's plan, so on to the next thing. And this is a place that has been very welcoming, and I am excited. Obviously, it's a one-year deal and I am just trying to make the most out of it one day at a time. And this is a great group that seems like a no-BS squad that is all about winning."
Joe will give Todd Bowles credit for being a no-BS head coach guiding a team with a strong mentality, not including Devin White. That's why Joe was so flabbertasted when Bowles yanked the ball out of Tom Brady's hands in the fourth quarter against a bad Cleveland team last season.
Rather than being "all about winning," Bowles was all about not losing in that moment despite having a living legend at quarterback and A-list pass catchers.
Joe sure hopes everyone at One Buc Palace learned from that horror.