Todd Bowles Acknowledges Production Loss
April 11th, 2023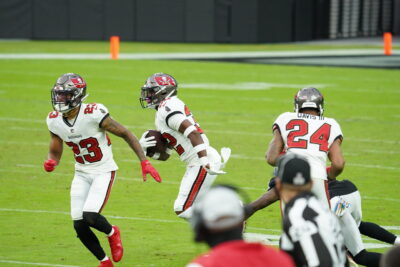 Fifty percent of the Bucs' 2022 interceptions — 50 percent — and their only defensive touchdown left the building in free agency.
The Bucs had 10 picks last season: cornerback Sean Murphy-Bunting (Titans) had two, as did safety Mike Edwards (Chiefs), and safety Keanu Neal (Steelers) grabbed one. Edwards also had pick-six off one of those interceptions.
(Joe won't count the pick by Logan Ryan since he is currently unemployed.)
That's a lot of defensive production to lose from a good defense, especially when the players are all young.
Joe addressed this in a 1-on-1 sitdown with head coach/defensive guru Todd Bowles in Phoenix last month, and Bowles gave an expected response after acknowledging the loss.
"We lost some production but that doesn't mean you can't make it up," Bowles said. "I look forward to the guys coming in to make up our production. I thought we were short as a group from an interception standpoint. I thought we missed a bunch of them and we can get better in that category. But anytime you lose guys that's helped you the past few years it's going to be a different type of player coming in. We have our eyes on a few guys that we understand that can come and do just as well or make an impact. Hopefully, we get'em."
The Bucs signed safety Ryan Neal in free agency from Seattle last week. He talks a good game, but he's not a proven ballhawk with just one interception and one forced fumbled through the past two seasons.
"Missed" interceptions have been an issue for Jamel Dean and Carlton Davis through their careers, which is why neither has been to a Pro Bowl. Joe can't count on their hands to clean up.
Antoine Winfield, Jr. is a major X-factor when it comes to production. The Bucs are pulling him from nickel cornerback duty this season so he can make more big plays like he did prior to 2022.
Of course, whoever the new nickel corner is will be counted on to make plays, even if he's a rookie.
---
Great fun ahead at the brand new Big Storm taproom in the heart of Ybor City! Upstairs in Centro Ybor with public parking all around. It's big, bold and beautiful. 
…Courtesy of Florida's Elite Restoration, you can win $500 in our "Pick The Pick" contest, which was a huge hit at the 2021 NFL Draft party, plus another $500 in an additional contest. Hang with great Bucs fans, Ira Kaufman and Florida's best craft beer and food.