The Bucs & Brian Branch
April 10th, 2023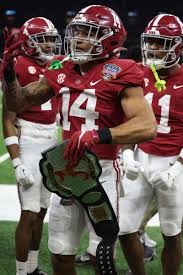 One could argue the Bucs' next move in the NFL Draft is becoming obvious.
Tampa Bay needs a nickel cornerback. Todd Bowles admitted that publicly last month and new safety Ryan Neal isn't the guy. If you're watching Neal's 2022 Seattle film and looking for him playing nickel, you won't find a good sample. The Bucs didn't sign Neal to play nickel.
While talking to Joe 1-on-1 last month, Bowles sounded a little down and mildly surprised the Bucs couldn't bring back Sean Murphy-Bunting in free agency to play nickel.
Yes, the Bucs have veteran Dee Delaney and second-year cornerback Zion McCollum on the roster, but their go-to nickel is not. Cornerback/safety Logan Ryan is 32 years old and still a free agent, in addition to looking like his best days are behind him.
So will the Bucs simply draft a stud nickel cornerback? Perhaps their pick will be that simple.
NFL Draft guru Daniel Jeremiah, of NFL Network, sees Brian Branch as the best of the nickel cornerbacks available in the draft.
Branch, a stud out of the University of Alabama, is known for superior smarts and versatility, traits Bowles loves. And, well, Alabama is know for producing outstanding cornerbacks. The list is extremely long, including Steelers All-Pro safety Minkah Fitzpatrick, for whom Branch often draws comparisons.
Branch routinely finds himself in mock drafts getting picked late in Round 1. The Bucs hold the No. 19 overall pick.
Tampa Bay needs a nickel, and Branch appears to be a very safe and sound pick that fills a need.
Sometimes a team's desired pick is hiding in plain sight.
The last time the Bucs drafted a defensive back in Round 1 was cornerback Vernon Hargreaves in 2016. Hargreaves, 27, was unemployed last season and remains without a team.
A peek at the Big Storm Ybor patio overlooking 7th Ave. @BigStormBrewing.
Seating for hundreds inside.
Upstairs at Centro Ybor. What a gem of a new place.
JoeBucsFan NFL Draft party there Thursday, April 27 (Round 1) from 7 p.m. until the last pick. @IKaufman76 pic.twitter.com/Qklsni0dqm

— JoeBucsFan (@JoeBucsFan) April 7, 2023