Seattle GM References Pursuing New Bucs Safety Ryan Neal Next Year
April 7th, 2023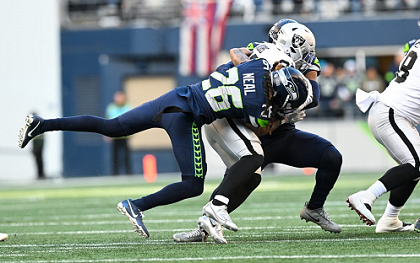 Roger Goodell might need to slap a fine or a firm warning on Seattle general manager John Schneider.
Imagine if after cornerback Sean Murphy-Bunting signed with the Titans last month, Bucs general manager Jason Licht told media he didn't want to lose Murphy-Bunting but the Bucs can sign him next year in free agency because Tennessee only signed him to a one-year deal.
That's bascially what Schneider did yesterday when talking about new Bucs safety Ryan Neal on 710 AM radio in Seattle.
GMs don't talk about signing players on other teams. It's taboo. What would the Bucs think if Rams coach Sean McVay was asked about the Rams' future at QB and he said, 'We'd love to make a free agent offer to Baker Mayfield after he plays for the Bucs this season?"
Neal played for Seattle the past three years and the Seahawks restricted Neal from leaving town by putting a free agent tender on him until about a week ago, Neal didn't sign it and the team lifted the tender and set him free.
"We would have loved to have Ryan on our squad this year," Schneider said. "You know, unfortunately, great guy, great player, great competitor, and he did a great job working with the staff and the staff did a great job developing him over the last several years. Unfortunately, there is a process to free agency and it's just the reality of it. There's different phases, there's different consequences and you're always competing as much as you can stay in as many deals as you possibly can, and then figuring out what you can and can't do. …

"We had to remove the tender for Ryan and he ended up choosing to go to Tampa for what he thought was a better opportunity," he said. "So we never close the door. You guys have seen that, and he'll be a free agent next year."
Joe was very pleased to see how dejected Seahawks fans were on social media after Neal signed with Tampa. And now his old Seattle GM isn't hiding that his team missed out.
This bodes well for the likely new Bucs starting safety.