Rondé Barber Still Impressed By Things He Learned From Greg Schiano
April 11th, 2023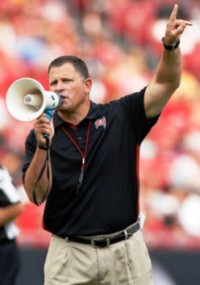 Once upon a time, former stud Bucs defensive tackle Gerald McCoy spoke openly about how then-Bucs head coach Greg Schiano taught him how to tackle.
It was quite a stunning statement from a third-year player who was the No. 3 overall pick in the NFL Draft. McCoy also had just spent two seasons under Monte Kiffin-disciple Raheem Morris.
Of course, the Schiano regime (2012-2013) didn't last long, but some of those Schiano lessons are still felt today.
Joe was surprised to hear a recent Salty Dogs podcast featuring Hall of Fame cornerback Rondé Barber dive into a moment of Schiano love. Barber explained that he's still somewhat in awe of things he learned from Schiano.
"I learned more about football [from Greg Schiano], and probably because I was hearing it from a different prism than all of my other years … I have notes still that I took in some of his meetings, stuff that I had never heard come out of a head coach's mouth," Barber said. "He had his quirks and he was my last coach, but I did come away with a little bit better understanding of football."
Barber added that he appreciated Schiano moving him to safety but was unhappy Schiano didn't give him more opportunities to blitz so he could get his career sacks total to 30. Barber's career ended with 28 sacks.
Todd Bowles' oldest son, a defensive back, plays for Schiano at Rutgers, which Joe doesn't believe is a coincidence.
The Schiano appreciation is just further evidence of how great NFL teachers and coordinators aren't necessarily good head coaches.