Pass Rush May Be Worse Than You Think
April 11th, 2023
Holy smokes, Joe knew the Bucs' pass rush was subpar in the wake of Bucs sacks king Shaq Barrett getting hurt last year. Joe didn't realize it was this bad.
Sadly, Barrett blew out his Achilles in the late-October loss to Baltimore. The regular season seemed to have imploded from there, as the Bucs back-doored their way into the playoffs only to get run on national television in prime time.
Joe is beyond skittish banking on a 30-year-old bouncing back from a serious injury like an Achilles. Dismiss Shaq's injury all you want, but history is not kind to veterans who suffer it.
If Shaq is on the turf of The Licht House on Sundays to open the season, that's a tremendous recovery. Will he be the same player he was before? Big question.
Noted handicapper turned stathead Warren Sharp researched the Bucs' pass rush and it is almost starting to sound like The Lost Decade, where the Bucs couldn't breathe on an opposing QB.
Would you believe despite missing about half the season, Shaq was fourth on the Bucs in quarterback hits?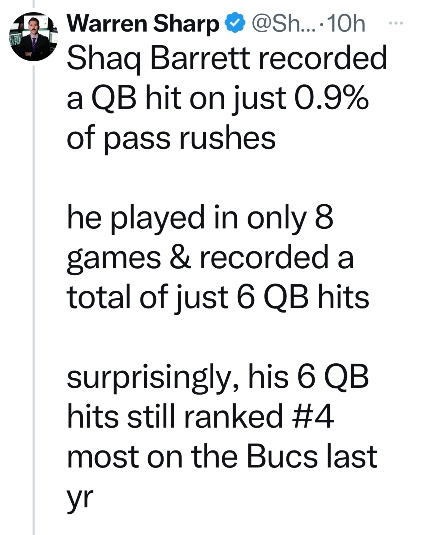 For the record, Shaq was tied for fourth with Anthony Nelson, Carl Nassib, Logan Hall and Antoine Winfield, Jr.
But this is just incredible and shameful all rolled into one. And the sad thing is, without a veteran upgrade at edge rusher (how can the Bucs afford one?) a rookie is unlikely to come close to replacing Shaq this fall.
Add to that this year's crop of pass rushers is watered down. So unless Tyree Wilson or Tuli Tuipulotu fall to the Bucs, drafting an edge rusher at No. 19 is a reach.
Joe Tryon-Shoyinka, it is time.
---
Ira Kaufman Talks All Variables & Realities Regarding The Bucs Drafting Hendon Hooker Or Bijan Robinson, And Much More