Kyle Trask: Best Way To Win Starting Gig Is To Lock In
April 18th, 2023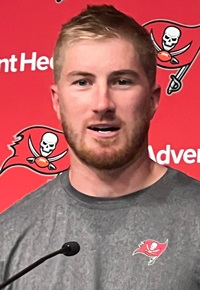 The more Joe thinks about it, the more Joe considers himself a lucky guy.
Joe's old high school coach played for Tom Landry, John Madden, Gene Stallings and Lou Holtz, so he taught so much common sense stuff that Joe doesn't even see NFL dudes do today.
Wrapping up on tackles is at the very top of the list.
But another element is how people wring their hands over — deep breath now — distractions! It's laugh-out-loud funny to Joe.
Why? Joe learned from this coach, "Distractions are distractions if you let them be distractions." Translation: you, yourself, control distractions. Block it out. Focus on the task. If you do that, there are no distractions.
It seems Bucs quarterback Kyle Trask gets it. Yesterday at One Buc Palace, Trask touched on distractions. He said the best way for him to win the starting quarterback job is to worry about his tasks. Nothing else.
"I guarantee you the job won't be won if I'm thinking about outside things and different types of narratives," Trask said. "That's not going to translate to success on the football field. I need to narrow my focus and do my best to put the team in the most successful position possible.

"And at the end of the day, just have fun and lift the ones around you, because I think when you do that it ties the whole thing together and everybody plays better."
Exactly. Worry about yourself. Worry about your responsibilities. Lock in.
If you take care of the little things, the big things will fall into place.