Keeping The Bucs' Draft Simple
April 26th, 2023
A Florida man who used to work with Buccaneers general manager Jason Licht and was a visitor to Bucs training camp last season is confident the Tampa Bay GM will keep things simple in Round 1 of the draft tomorrow night.
The guy Joe is referencing is Charlie Weis, disliked by so many Gators fans but respected by so many across the NFL. Weis was Tom Brady's initial playcaller and helped get Vinny Testeverde (Jets) and Matt Cassel (Chiefs) to the Pro Bowl. Yeah, the man knows a few things about offense.
Weis bellows on SiriusXM NFL Radio these days, usually from his Florida home, and he travels to the NFL Scouting Combine and various NFL events.
Today, Weis participated in two mock drafts on the air. First, he said he believes the Bucs will grab University of Georgia left tackle Broderick Jones at No. 19 overall. In the second mock, Weis didn't make the Bucs' selection, but he blessed the eventual pick there of Gators offensive lineman O'Cyrus Torrence.
Torrence is the 6-5, 330 pound senior right guard prospect who is considered a plug-and-play mauler. He's known for a being overweight and a little slow, but also for being a throwback beast of a guard with a great feel for the game and enough strength to be a monster at the next level.
Joe sees Weis reading the cards in front Licht. The Bucs have a serious need for offensive line help and either one of those players could fit .. and Licht was a college offensive lineman.
(Brief pause. Enjoy the draft at Big Storm Brewery in Ybor City on Thursday night. Always great energy when fans are gathered for the drama with top-notch food and Florida's best craft beer. Details on the home page.)
If the Bucs draft Torrence, then Tristan Wirfs likely moves to left tackle with newcomer veteran Matt Feiler competing at right tackle (he started there with the Steelers), among others.
Joe easily could see Licht investing heavily in rebuilding the line and keeping the first-round simple. Poor Licht lost three starters in the past two offseasons and Ryan Jensen is 32 with injury issues.
---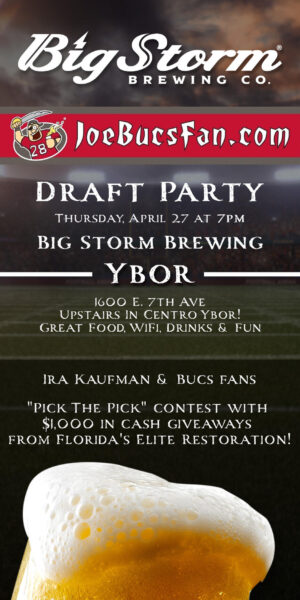 Great fun ahead at the brand new Big Storm taproom in the heart of Ybor City!
Upstairs (2nd level) in Centro Ybor with public parking all around. It's big, bold and beautiful.
…Courtesy of Florida's Elite Restoration, you can win $500 in our "Pick The Pick" contest, which was a huge hit at the 2021 NFL Draft party, plus another $500 in an additional contest. Hang with great Bucs fans, Ira Kaufman and Florida's best craft beer, cocktails and excellent food.