Jason Licht Talks Running Backs
April 5th, 2023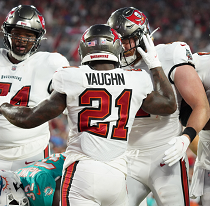 Head coach Todd Bowles and offensive coordiantor Dave Canales are big believers in sharing the load at running back.
There aren't many Derrick Henrys and Jonathan Taylors to go around the league. Teams need mulitple quality backs, yet many still sit on the free agent market.
Joe asked Buccaneers general manager Jason Licht about this phenomenon last week at the NFL Annual Meeting in Phoenix. Joe only asked about the NFL trend, but Licht shared firm thoughts about the Bucs' running backs stable.
JoeBucsFan.com: It seems like there are a lot of good, quality running backs sitting on the market, presumably their price will come down eventually. Can you talk about why you think that is — that it's a trend in the NFL with a lot of good running backs available?

Bucs GM Jason Licht: I think it's a good running back draft; I think that has a little to do with it. Just more and more teams — I don't want to speak on behalf of us —  but there's just more and more teams now that don't believe in paying running backs. So we really like our group, really like our group. We think Rachaad [White] is going to be a stud. We really like Ke'Shawn [Vaughn]. We've always liked Ke'Shawn. I know he's been with us for three years, but he really hasn't gotten opportunities. When he has, he's done some good things. And we got Chase [Edmonds signed in free agency]. I'm not saying we're done there, but we like the room that we got now.
Joe is very intrigued by the Ke'Shawn Vaughn X-factor, and Joe still doesn't understand why Vaughn wasn't given a shot last season when the entire running game was struggling.
It seems that Licht might feel the same way.
Against the Eagles in the playoffs two seasons ago, Vaughn rushed 17 times for 53 yards and 1 touchdown, and he caught both balls thrown his way. It was a solid day against a strong run defense, but then Vaughn disappared with just 17 carries all of last season.
Flash poll posted at 8:37 a.m.