Jason Licht Talks "Money Shifting"
April 2nd, 2023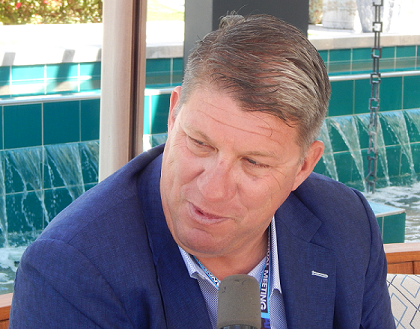 Did the Bucs decide to invest more at cornerback than at offensive line?
Joe talked to general manager Jason Licht last week during a cozy sitdown at the Biltmore resort in Phoenix.
One subject was the re-signing of pending free agent cornerback Jamel Dean. The Bucs brought back their 2019 third-round pick hours before he hit the open market. Dean is no Pro Bowler, but he's a great talent who continues to improve. He's long, fast and certainly capable of covering superstar receivers.
Licht acknowledged that paying Dean the big money while fellow cornerback Carlton Davis has an ever fatter contract is outside the norm.
"He's a really good player," Licht said of Dean. "We feel the same way about Carlton [Davis], obviously. And we developed him; the coaches did a great job developing him. It's hard to let a really good player walk out. And know it seems a little different having two high-priced corners but, you know, we don't want a young, great talent to leave if we don't have to. We just happened to have the money shifting a little bit that way from another area, and the pendulum can swing again at some point. But it's just a great player. We didn't want to let him go."
Joe was intrigued when Licht talked about the money moving "from another area" to the defensive backfield.
Was he referring to quarterback or the offensive line, which lost Donovan Smith's giant salary and Shaq Mason's, which was around $8 million? At QB, of course, the Bucs aren't spending much but Tom Brady is counting $35 million against the salary cap this season following accounting moves tied to keeping him on the roster last season.
Regardless, the Bucs are investing at cornerback in a big way. And next offseason, they'll have to break the bank to keep Antoine Winfield, Jr., at safety.
Joe sure hopes the investments pay off, and Joe especially would love the Bucs secondary to terrorize the Panthers' rookie quarterback this season.
Ira Kaufman Talks Inside The Buccaneers' Quarterback Competition, Todd Bowles' New Relationship With Dave Canales, And More