Jason Licht: Consensus "Tends To Work"
April 15th, 2023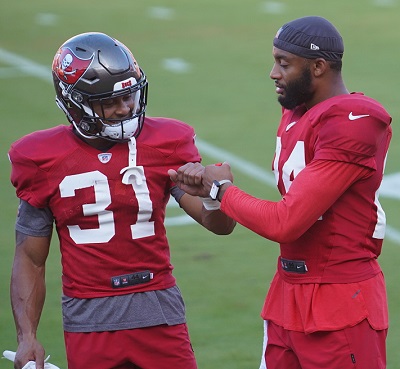 On Thursday, Tampa Bay general manager Jason Licht mentioned that when he has "fun" watching an offensive lineman's film, then the guy typically turns into a special draft pick or free agent.
In Phoenix 1-on-1 with Joe two weeks ago, Licht shared another key to draft success.
Despite what teams say publicly, there are disagreements at club headquarters when it comes to draft picks and free agents. Strong consensus can be elusive.
And that's a good thing. It's never good to have a bunch of yes-men and yes-women running around sniffing the GM's butt.
Joe was in stunned disbelief nine years ago when Licht herald total consensus on all things personnel at One Buc Palace. Joe didn't believe the spin back then, but consensus is a legitimate positive, Licht told Joe recently. And Joe buys that after Licht's track record of success as through 9 9 1/2 offseasons in Tampa.
Joe asked Licht to reflect on drafting Carlton Davis, Jordan Whitehead, Sean Murphy-Bunting, Mike Edwards and Jamel Dean during the 2018 and 2019 drafts. Selecting five huge contributors to a Super Bowl defensive backfield in that short timetable is extraordinary.
Licht talked about his pride in his front office and the coaches' role in scouting and development those guys.
"Not only did we have great scouts, but the coaches played a big part in it, too. And we were on the same page with them on all of those players And whenever you're on the same page with coaches where you like a player, it usually tends to work," Licht said.
The consensus angle to this year's draft intriuges Joe.
Licht hasn't worked previously with new Bucs offensive coordinator Dave Canales, and the Bucs have new assistant coaches on both sides of the ball. Plus, Bucco Bruce Arians' voice is getting progressively quieter.