"I Refuse To Believe"
April 22nd, 2023
Joe is of the mind that yes, the Bucs really are serious when they peddle the notion they can reach the playoffs with Kyler Traskfield leading the offense.
The Bucs may have a hidden jewel in Baker Mayfield. The Crows tried to sign Mayfield. And the Rams wanted to keep him.
Did John Harbaugh and Sean McVay suddenly turn stupid?
And Kyle Trask is, well, a quarterback the Bucs have a small investment in.
But Jordan Reid of BSPN simply is not buying that the Bucs are serious about starting Traskfield. They have to be angling for a quarterback in the first round on Thursday, Reid thinks. And perhaps the Bucs will go so far as to trade up for Will Levis.
(Joe hopes this banana peel-eating Levis has a deal worked out with Levi's jeans. Every damn smartphone and spellcheck software in the Western world autocorrects "Levis" to "Levi's." It may be the greatest accidental marketing tool this century.)
Reid is convinced Todd Bowles not just wants Levis, but he needs Levis.
Are the Bucs really going into the 2023 season with Baker Mayfield and Kyle Trask battling it out for the starting quarterback spot? I refuse to believe that, especially with heightened pressure for coach Todd Bowles to win following an 8-9 record and disappointing finish in the playoffs last season. Why not move up if one of the top four quarterbacks is within reach?
Well, Joe thinks the Bucs are sincere about Traskfield. It's the same reason Reid is convinced the Bucs are drafting a quarterback.
Bowles needs wins; that's correct. What are the chances a rookie quarterback gets the Bucs to the playoffs? What are the chances Mayfield could pull off, say, nine wins? You'd have to give the edge to Mayfield.
And if Mayfield truly has turned a corner as he showed in Los Angeles last year, then the Bucs have their quarterback for the next five years or so.
If Mayfield goes belly up, either the Bucs stink enough to put them in range to go get Drake Maye or maybe the Bucs fall in love with Michael Penix a year from now?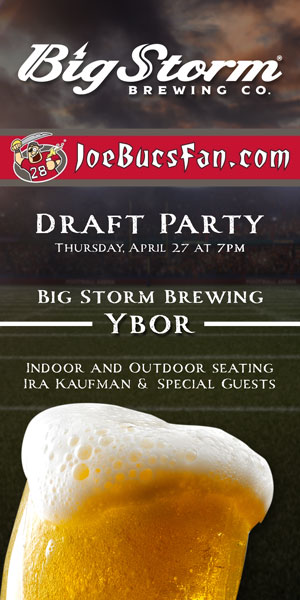 Great fun ahead at the brand new Big Storm taproom in the heart of Ybor City! Upstairs (2nd level) in Centro Ybor with public parking all around. It's big, bold and beautiful.
…Courtesy of Florida's Elite Restoration, you can win $500 in our "Pick The Pick" contest, which was a huge hit at the 2021 NFL Draft party, plus another $500 in an additional contest. Hang with great Bucs fans, Ira Kaufman and Florida's best craft beer, cocktails and excellent food.