Ravens Tried To Sign Baker Mayfield
March 28th, 2023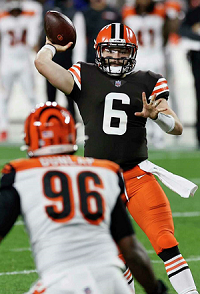 Lamar Jackson news and speculation was swirling yesterday following the Pro Bowl quarterback publicly stating he requested a trade from the Ravens, so Joe thinks it's a good time to break this gem of a news nugget.
Last week, JoeBucsFan.com learned that new Bucs quarterback Baker Mayfield got an offer in free agency from the Ravens but declined. Joe was able to confirm that late yesterday at the NFL Annual Meeting in Phoenix.
Mayfield's focus at the time of the Ravens' offer was on a starting opportunity. When he passed on the Ravens job, it appeared Jackson would return for his sixth season in Baltimore to build on his 45-16 record as a starter.
Jackson said on Twitter that he requested a trade March 2. If true, the Ravens move to sign Mayfield should feel awfully good to Bucs fans. The Ravens have a shrewd front office and a roster with a lot offer — as do the Bucs.
Regarding Mayfield, Joe was told by a non-Bucs team executive that Tampa Bay absolutely knocked it out of the park with the Mayfield signing. The source was admant that Mayfield at an inexpensive price for one-year is a much better value and gamble than the Saints signing Derek Carr to a monstrous three-year contract.