"He's Got The Contract That Says You're On The Gang Plank"
April 24th, 2023
Joe can only imagine what new Bucs quarterback Baker Mayfield was like at One Buc Palace last week.
He had a week to move the needle in his direction and away from the front office and Todd Bowles wanting to draft a QB this Thursday.
Yes, Mayfield was there for Day 1 of voluntary conditioning, as the Bucs reported for work a week ago.
Joe is 100 percent confident that Mayfield was taking the steps to show everyone there that he is ready and hungry to lead the Bucs back to the NFL's promised land. After all, Todd Bowles called Mayfield "a natural born leader."
Assuming you like your job, imagine knowing your boss could hire your replacement in 10 days, but you still had time to prove yourself in small ways. That's how Joe envisions Mayfield last week — doing whatever he could to make the Bucs feel like they got a steal when they signed him cheap in free agency.
Former Jets personnel man and linebackers coach Pat Kirwan was talking about Mayfield today on SiriusXM NFL Radio. He is convinced Mayfield will win his competition with Kyle Trask quickly, if there is a competition, and Kirwan talked about how Mayfield can win over people in a hurry.
Throw in the flimsy contract, and you've got a very motivated Mayfield, Kirwan said. "He's got the contract that says you're on the gang plank."
No chance, Kirwan said of the Bucs trading up for a QB on Thursday.
For those saying, who's Kirwin? Well, Todd Bowles is on his show every week during football season. And Kirwan has all kinds of inside sources, including his longtime friend and Jets colleague Pete Carroll, who just happens to be the mentor of the Bucs' new new offensive coordinator.
Regardless, Joe could totally see the Bucs trading up a little for a quarterback in this draft.
The Bucs are sitting with the No. 19 overall pick. New England and the Jets are sitting at No. 14 and No. 15 respectively. New England loves to trade down and the Jets no longer need a quarterback.
---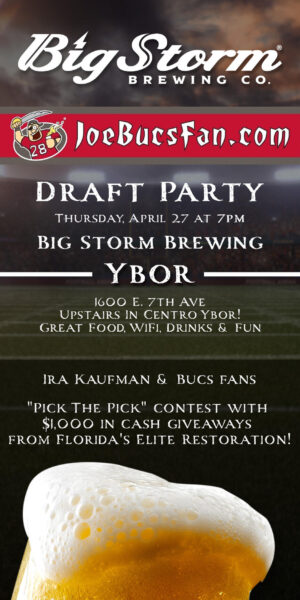 Great fun ahead at the brand new Big Storm taproom in the heart of Ybor City!
Upstairs (2nd level) in Centro Ybor with public parking all around. It's big, bold and beautiful.
…Courtesy of Florida's Elite Restoration, you can win $500 in our "Pick The Pick" contest, which was a huge hit at the 2021 NFL Draft party, plus another $500 in an additional contest. Hang with great Bucs fans, Ira Kaufman and Florida's best craft beer, cocktails and excellent food.