"Hendon Hooker Is Going In The Top Half Of The First Round"
April 19th, 2023
NBC NFL super insider and social pontificator Peter King has deep connections across the league and was sharing acquired draft intel on his podcast yesterday.
Consider that King spent a draft night with Buccaneers general manager Jason Licht in 2020.
Talking about University of Tennesee quarterback Hendon Hooker, King rather confidently floated the following:
With the No. 2 overall pick in the draft, the Houston Texans will trade down two picks to a quarterback-hungry team eager to move up. Then, Houston will draft a position player before it takes its No. 12 overall pick and other draft capital to move up to No. 10 overall, jumping the Tennessee Titans so they can draft Hooker.
King has been talking to movers and shakers across the NFL and is confident Hooker will be long gone by the time the Bucs' No. 19 overall pick appears.
"The more I hear, I think Hendon Hooker is going in the top half of the first round," King said.
Joe also expects Hooker to be gone early. All it takes is one team to believe Hooker is a legitimate franchise QB prospect. And it seems there are many more than one.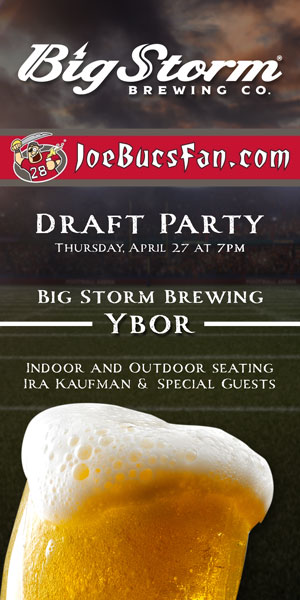 Great fun ahead at the brand new Big Storm taproom in the heart of Ybor City! Upstairs (2nd level) in Centro Ybor with public parking all around. It's big, bold and beautiful.
…Courtesy of Florida's Elite Restoration, you can win $500 in our "Pick The Pick" contest, which was a huge hit at the 2021 NFL Draft party, plus another $500 in an additional contest. Hang with great Bucs fans, Ira Kaufman and Florida's best craft beer, cocktails and excellent food.