"He Got Thrown Out Of The Bar Twice"
April 14th, 2023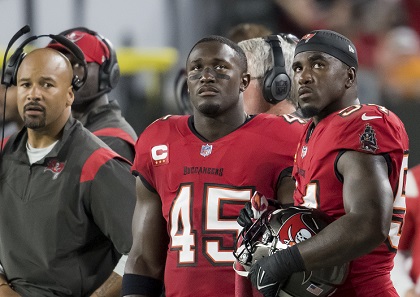 The Devin White mess sent a former NFL general manager to the film room to study whether White has a case for a massive contract.
The verdict?
No.
White is not one of the elite stars of the game, ex-Vikings general manager Rick Spielman said while co-hosting on SiriusXM NFL Radio this week.
(Brief timeout: Joe knows Spielman chooses his words carefully. Joe chatted with Spielman this year at the NFL Scouting Combine and eventually pressed Spielman, 10 years after the fact, to talk off the record about Josh Freeman's time as Vikings starting quarterback. Spielman wouldn't say a word about it.)
After news broke that White wants a trade from Tampa Bay because the Bucs won't meet his contract demands, Spielman said he pulled up film of the Bucs-Dallas playoff game in January to see how White fared.
Bad night for White, Spielman explained.
"[White] didn't play very well in that playoff game," he said. He's a very good runaround linebacker, very good in coverage, very productive, but he got thrown out of the bar twice when Dallas locked in on him and not a really good take-on guy at the point [of attack]. But he's talented. He's got all the tools that you want. It's just what teams value for that position now. It's almost like the running back where even though there's good running backs, but they're getting devalued."
Keep in mind that Spielman is a former linebacker and his brother Chris was a Pro Bowl linebacker. So Joe respects the film critique.
Spielman added that the Bucs either don't consider White a core player because of their other stud defensive players, or White is demanding too much money.