Devin White Seems To Address His Trade Demand On Instagram
April 17th, 2023
For the first time since Jenna Laine of ESPN reported Devin White wanted out of Tampa Bay, the disgruntled Bucs linebacker seemed to address the issue.
On Tuesday, ESPN reported White is "fed up" with the Bucs and at his apparently stalled contract extension negotiations, and he demanded the Bucs trade him.
In response, Bucs AC/DC-loving general manager Jason Licht said in his pre-draft press conference on Thursday he has no intention of trading White, the No. 5 overall selection in the 2019 draft.
White first posted a CBS Sports graphic on his Instagram stories account Sunday morning. It detailed how he is the only linebacker "since 2020" to have at least 100 tackles and 15 quarterback hits in a season. White racked up these numbers each of the past three seasons.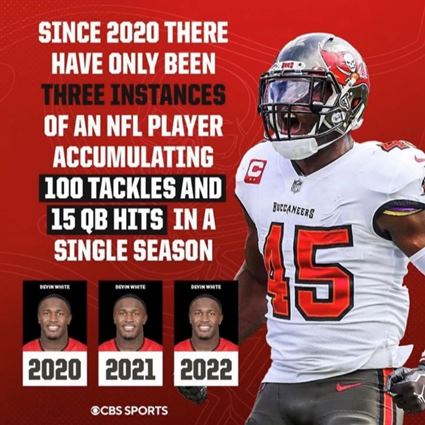 Then on Sunday night, White posted the following, apparently his first salvo since he demanded a trade.
"I'm at peace with who I am and what I'm capable of," White posted.

Joe is confident Licht is, too.
Two elements to this public hassle are unknown but will be key elements going forward
The first is the money demand from White and his agent. The second is whether White will invoke Operation Shutdown and not just sit out offseason activities but also sit out the season unless a new contract is worked out?
The first offseason workout for the Bucs is today. Will White be there or will he be seen on social media riding one of his horses?