Bucs Pick A Cornerback In "What I'm Hearing" Mock Draft
April 18th, 2023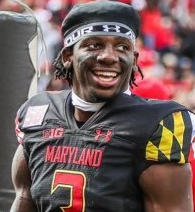 There's a glaring hole on the Buccaneers roster that is rarely talked about.
That's the vacancy at nickel cornerback.
Sean Murphy-Bunting is gone to Tennessee. Mike Edwards is with the Chiefs. Logan Ryan has no team. Jamel Dean and Carlton Davis are strictly outside corners.
Zyon McCollum and Dee Delaney? C'mon now.
The Bucs need a nickel and NFL Network host/insider Peter Schrager thinks they pick one in the first round of next week's draft. The fun part is that Schrager's mock draft is not about who he thinks a team should pick, it's about "what I'm hearing" after talking to shotcallers around the league.
Schrager patrols offseason league events and has relationships with many general managers. Also, working for NFL Network helps a lot when it comes to getting GMs to take your call.
Schrager has the Bucs drafting Maryland cornerback Deonte Banks at No. 19 overall.
Banks is an extraordinary athlete and an impressive prospect, but he's widely considered an outside cornerback. And the Bucs have two of those making nearly a combined $30 million in 2023 (Dean and Davis).
So Joe is very skeptical of Schrager's intel, but Joe certainly could see Todd Bowles being smitten with Banks' ability, thinking he could be coached up to be an inside playmaker and eventually replace Dean or Davis.