11 Days From The NFL Schedule Release
April 30th, 2023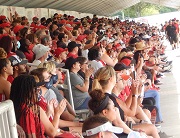 Joe absolutely loves the next spring high holy day of the NFL.
It's the schedule release. That's when the league unveils every date, time and location of the following season's games. This year, per Adam Schefter of ESPN, it will be Thursday, May 11.
Prior to that, of course, dates will leak and preseason information will made public. (The Bucs will have two preseason road games this season and one at home.)
On that glorious day, Joe will join many tens of thousands of Bucs fans in starting to immediately plan trips to games and family outings around the NFL schedule. Endless dudes and ladies will explain to their loved ones why they can't attend the wedding of the beloved moron who scheduled a wedding at 3 p.m. on a Sunday afternoon in October.
More important, so many fans will put that schedule in their phone calendar, on their refrigerator and memorize it like it's the Ten Commandments or their girlfriend's iPhone password.
Joe hopes the Bucs open with some "easier" games. Week 1 in Indianapolis followed by a home opener against Carolina would be a beautiful thing.
The last thing this team needs is a slow start. It'll be important for the Bucs' new quarterback to not be under the weight of a freaking out fan base after an 0-2 opening to the season.
On the road in San Francisco followed by hosting the Eagles is not what Joe wants to see in Weeks 1 and 2.