True Cost Of Jamel Dean Emerging
March 20th, 2023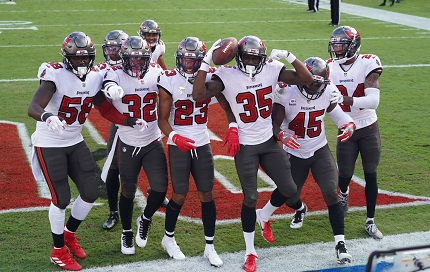 With young defensive backs Mike Edwards and cornerback/nickel Sean Murphy-Bunting now wearing the uniforms of AFC teams, two Tampa Bay Super Bowl pieces, the perception of Bucs cornerback Jamel Dean's value is more clear.
Obviously, Joe doesn't have copies of the contracts, but various reports reveal Edwards got $3 million plus incentives from the Chiefs, and Murphy-Bunting will score $5 million this season from Tennessee.
Dean will bag $13 million in 2023, so the Bucs preferred Dean to signing the other two plus having roughly $4 million-plus to buy another established player (Will Gholston, perhaps?).
Joe wonders how fans feel about how highly the team valued Dean — versus what they could have purchased with his salary.
Edwards and Murphy-Bunting combined for 8 interceptions, 3 touchdowns and 2 forced fumbles over the past two seasons (including playoffs). Dean registered 4 interceptions with no TDs or forced fumbles in the same time period.
Joe understands the Dean investment, but it's worth deeper scrutiny after seeing what Edwards and Murphy-Bunting are earning from high-caliber franchises.
This whole scenario has Joe recalling when the Bucs cut Hall of Famer cornerback Darrelle Revis and his massive salary because they preferred to pay Alterraun Verner half the price and use the extra money for other free agents.
And no, Joe isn't comparing Dean to Revis, who went on to win a Super Bowl and earned two Pro Bowl trips after he left Tampa Bay.