"Todd Bowles Hopes Baker Mayfield's The Guy"
March 16th, 2023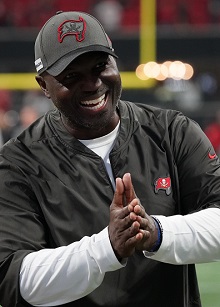 Lots of love around the national NFL media community for the Buccaneers' call to sign veteran quarterback Baker Mayfield, and for their execution.
The voice of NFL Network, Rich Eisen, lauded the move on many fronts yesterday during his Roku show.
"This is the guy after the guy.  … If anybody can be the guy after the guy, it's this guy," Eisen said, referring to the common post-Brady theory Joe referenced previously.
Eisen called it a terrific spot for Mayfield with the Bucs' great receivers, Rachaad White and the roster in place.
Eisen also was adamant that the Bucs will position Mayfield and Kyle Trask as an open competition but it won't be.  "Love this move." Interestingly, he firmly stated, "Todd Bowles hopes Baker Mayfield's the guy."
Consider the Bucs in place to win their third consecutive division title if the Mayfield plays pretty well, Eisen added.
"You're going to have a rookie quarterback in Carolina. You're going to have a first-year starter all year long in Desmond Ridder in Atlanta, because that's who the guy is. And you're going to have Derek Carr in a new spot in New Orleans," he said.
The former face of NFL Network, Kay Adams, also said she loved the move for Tampa Bay on her FanDuel TV show. And former Browns and Patriots head coach Eric Mangini lauded the acquisition on FS1 for the value the Bucs are getting with a maximum payout to Mayfield of $8.5 million this season, with incentives. He also thinks Mayfield showed enough last season with the Rams to believe he can be a strong starter.
Joe will share others' takes, of course. But for balance in this space, Joe will pass on the opinion on of Stephen A. Smith of BSPN when asked to comment on the Bucs signing Mayfield.
"So?" Smith said, implying his is thoroughly unimpressed.