Todd Bowles Draws A Line In The Sand For Joe Tryon-Shoyinka
March 24th, 2023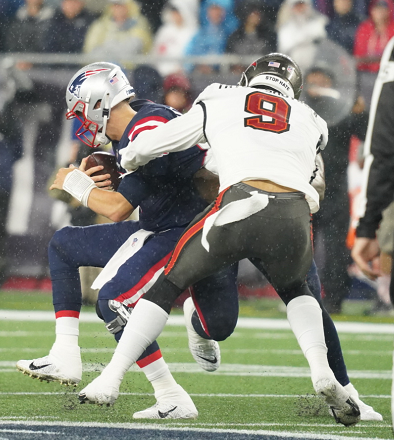 It's rare to hear head coach Todd Bowles roll out an achievement stat necessary for a certain position.
But hey, Bowles is much more open and engaging when he visits the Ira Kaufman Podcast versus when he's at the One Buc Palace podium or on national radio. So Joe was not surprised Bowles went there when he sat down with Ira and Joe at the NFL Scouting Combine.
Bowles was asked about where edge rusher Joe Tryon-Shoyinka is in his development and what it'll take for him to break through as a consisent impact player.
Bowels didn't hold back.
"Joe, he has to finish at the top of his rush. You know, he's got his hands on the quarterback a bunch of times, but he's leaving his feet," Bowles said. "As well as [on tackles for loss], he's doing the same thing. He's getting back there. He's very active. He runs like a deer. He's got all the talent in the world and he played hard. … He's gotta finish at the top of the rush.

"Every time he gets close, he falls off. He probably had more missed sacks than he did sacks. And, you know, we're not down on him. That's just an area he's got to get better at, and I think [new outside linebackers coach George] Edwards can help him with that.

"This was the first year since I've been coaching a 3-4 defense that the interior guy [Vita Vea] had more sacks than the outside linebacker. This defense is built for outside linebackers to lead the team in sacks and that didn't happen this year. You know, once Shaq [Barrett] went down it became tough sledding. And we can blitz and do other things to get pressure, but that [outside linebacker] position has to come through for us with at least 8 or more sacks every year."
So there you go, Tryon-Shoyinka fans. Your guy has to finish plays and he better be racking up 8 sacks.
Next month, Joe expects the Bucs to draft an edge rusher they hope can push Tryon-Shoyinka (4 sacks) and Anthony Nelson (5 1/2 sacks) while the team hopes and prays Barrett can return healthy from his blown Achilles.