The Bucs And Teddy Bridgewater
March 15th, 2023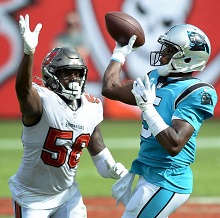 The Bucs want a free agent veteran quarterback or two and free agent Teddy Bridgewater could fit the mold of what Tampa Bay is seeking on several fronts.
First, Bridgewater played for Todd Bowles in 2018, Bowles' final season with the Jets. He was signed that March in free agency but was traded to New Orleans after the preseason for a third-round pick. There was strong chatter coming out of 2018 Jets camp that Bridgewater clearly was their best quarterback, but the team rolled with rookie Sam Darnold instead. Bowles was fired after the season.
In 2019, Bridgewater was a perfect 5-0 in five starts filling in for Drew Brees.
In 2020, Bucco Bruce Arians said multiple times that Bridgewater was in the mix to be the Bucs' starter to replace Jameis Winston after the 2019 season. Instead, some guy named Brady said he'd come to Tampa.
Arians still provides input at One Buc Palace, and whatever the Bucs liked about Bridgewater likely is still there.
In 65 starts, Bridgewater has a winning record and a 66.4 percent career completion rate. Yeah, that's better than Derek Carr on both fronts.
Also worth mentioning is that Bridgewater made a predraft visit to One Buc Palace and Jason Licht before the Vikings made him the last pick of Round 1 in the 2014 NFL Draft.
Bridgewater, 30, is not an exciting choice for Bucs fans when it comes to competing with Kyle Trask for a starting job. He's just not that great and has had durability issues at times. But Bucs offensive coordinator Dave Canales said he values accuracy and a quarterback with a point-guard mentality, and Bridgewater certainly can deliver those traits.
Joe thinks (fears?) Bridgewater may have enough upside to get hopes up at One Buc Palace.