Right Guard Robert Hainsey?
March 5th, 2023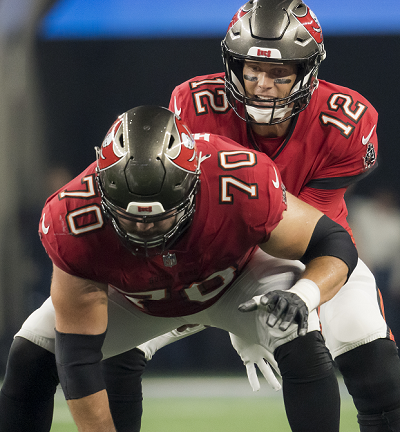 Joe talked to many members of the Bucs contingent at the NFL Scouting Combine this week and walked away skeptical of right guard Shaq Mason's future with the team.
Shaq is expensive, about to turn 30, only has one year remaining on his contract, and he still has trade value. Fair or not, that puts him in the spotlight as a potential player to be gone because the Bucs have to shave tens of millions off their salary cap in 10 days.
Joe doesn't believe the Bucs want to cut Mason, but he may be one of the odd men out if Tampa Bay is able to re-sign/sign their priority free agents. Of course, the Bucs may not be able to sign any of them and Mason could stick.
Joe brings this up in the context of third-year offensive linemen Robert Hainsey, last year's starting center who is beloved at One Buc Palace.
Hainsey was in line for the starting left guard job last season when Pro Bowl center went down with a brutal knee injury in July. That pushed Hainsey to center and he didn't miss a game.
After attending the Combine, talking to Bucs coaches and hearing general manager Jason Licht talk about Luke Goedeke coming back for a strong second season at left guard, Joe is convinced the Bucs want Hainsey on the field this season.
While Hainsey was a right tackle in college and played center in 2022, he largely was projected as a guard coming out of the Notre Dame in the 2021 NFL Draft. He's got enough size at about 6-5, 310 pounds, and he's known as a super smart guy with a fierce work ethic.
Off the field, Hainsey is very close with Pro Bowl right tackle Tristan Wirfs (unless they had a recent falling out). So Joe could see the Bucs brass thinking Wirfs and Hainsey would have great chemistry alongside each other with Jensen helping bring along Hainsey, as well.
Again, the Combine-week takeaway here was that the Bucs want Hainsey on the field, and since Joe doesn't think Hainsey has enough quickness for tackle, that only leaves guard.
Ira Kaufman Talks Kyle Trask Table-Setting, Potential Lavonte David Handoff To Devin White, Todd Bowles Opening Up On Edge Rush Woes, Shaq Mason's Thinning Ice, And More; John Lynch Joins For A Visit