Jason Licht Talks "Balls To The Wall" Greg Gaines
March 28th, 2023
One topic during Joe's sitdown with Buccaneers general manager Jason Licht today at the NFL Annual Meeting in Phoenix was the newest Tampa Bay defensive player.
That would be Greg Gaines, the free agent nose tackle signee from the Rams who turns 27 in May. He'll be the replacement for Rakeem Nuñez-Roches (Nacho), who moved on to the New York Giants.
The Bucs hope they've upgraded.
"He was a beloved player with [University of] Washington and the Rams and he's very professional in terms of his work ethic," Licht said of Gaines. "He's a high-motor guy, and there's never been a coach that he's had that didn't just absolutely love him. So I know he had an opportunity to go back [to the Rams], but he's looking forward to come play with Vita [Vea] again, play here in Tampa, get a fresh start. Just very excited about it."

Licht added that he remembers Gaines well from the predraft process and all the game film he watched on Vea, the Bucs'2018 first-round pick. Gaines played alongside Vea in college and was a fourth-rounder of the Rams in 2019.

"He was always one that just caught your eye because he was always just 100 miles an hour. Balls to the wall," Licht said.
The key here is the Bucs hope they've upgraded with Gaines. He's also three years younger than Nacho.
Patrolling the grounds of the swanky Biltmore resort in Phoenix, Joe talked to a few NFL types and a Rams official about Gaines. Licht's take on Gaines matched what Joe was hearing.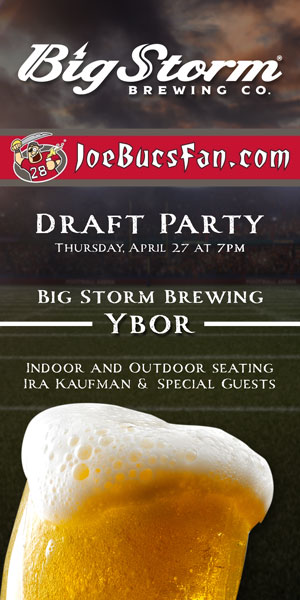 Great fun ahead at the brand new Big Storm taproom in the heart of Ybor City! It's big, bold and beautiful. More details forthcoming. …Courtesy of Florida's Elite Restoration, you can win $500 in our Pick The Pick contest, which was a huge hit at the 2021 NFL Draft party, plus another $500 in an addition contest at the party.