"It's Only Fair"
March 3rd, 2023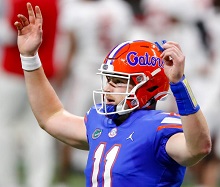 Joe was part of a private conversation today with two high-ranking front office types at the NFL Combine in Indianapolis.
They were discussing a specific prospect entering the NFL Draft and Joe can share minus the names.
The former NFL executive was asked by the current one if he had coached up the prospect prior to his formal interview. The former executive replied, "Absolutely." The current NFL suit emphatically said, "I knew it was you!"
The conversation turned to coaching up players versus teams' interview tactics. (For those wondering, Joe was permitted to listen and was not hiding behind a tall plant.)
The ex-NFL executive firmly explained that "it's only fair" for a prospect to be professionally coached up, and that a parent would coach up his or her own child for a big interview. Or the parent might tell the young adult child to seek guidance for the big day, whatever the job may be.
The current front office guy then talked about recognizing canned interview answers and ultimately said, "the real smart or special [personality] guys always pop" regardless. But he acknowledged that a truly well-coached up and rehearsed prospect can be tough to read.
Joe asked the former NFL suit how much time he spends coaching up a player for a Combine interview. He replied that the standard process is roughly 1 hour and 15 minutes.