Enduring The Super Bowl Straitjacket
March 24th, 2023
BY IRA KAUFMAN
There they sit, 2,500 miles apart, two NFL franchises trying everything in their power to avoid using the R-word.
Rebuilding.
That's a tough expression to say to your fan base when you've recently lifted the Vince Lombardi Trophy, so the Bucs and Rams have chosen new descriptions for their philosophies heading into 2023.
For Jason Licht, Tampa Bay is going through a reset. For Licht's counterpart, Rams GM Les Snead, L.A. is embarking on a remodel.
Whatever noun you prefer, the dynamics are the same — a valiant effort to stay relevant in the present while prioritizing the future.
Both franchises went all-in within the past few years behind a veteran quarterback … now the bills have come due. When free agency began, Snead and Licht found themselves bound in a dead-cap straitjacket.
Distressing moves had to be made, including decisions that would have been deemed outrageous when the Bucs and Rams harbored serious championship aspirations.
Besides releasing Donovan Smith and Leonard Fournette, Tampa Bay traded starting right guard Shaq Mason for a late-round draft pick. In their place are young, largely unproven players.
The Rams showed their colors by trading Jalen Ramsey to Miami and releasing Bobby Wagner and Leonard Floyd. If anyone is interested in wide receiver Allen Robinson, Snead is all ears.
On paper, the Bucs look better than the Rams, whose 5-12 record was the worst by any defending Super Bowl champion. Stafford is 35 and Aaron Donald, who turns 32 in May, has been publicly mulling retirement.
Cooper Kupp might be the best wide receiver in football, but he's coming off surgery for a high ankle sprain. Perhaps Cam Akers, who averaged 115 rushing yards in the final three weeks, can recapture the form he flashed at FSU.
"We would almost have to tear it down for it to be a rebuild," Snead says, "because we do have a lot of really good players in their prime on this roster. So a lot of times, it's tough to say rebuilding with that type of roster, so you'd have to go through some type of teardown to truly rebuild. That's why I use the word remodel."
Like the Bucs, the Rams are welcoming a new offensive coordinator in Mike LaFleur. Like Todd Bowles, Sean McVay cut loose a slew of assistants.
Things have gotten so bad so fast in the City of Angels, the 37-year-old McVay thought about quitting at the end of a disastrous season, when the Rams went 1-7 on the road and averaged only 18.1 points per game, slightly less than the Bucs.
"It's similar to when we first got here in 2017," McVay says. "We're excited about rolling our sleeves up, getting to work and figuring out how we can be as competitive as possible."
Better Positioned
In Tristan Wirfs, Mike Evans, Chris Godwin, Vita Vea, Antoine Winfield Jr., Carlton Davis and Jamel Dean, Tampa Bay has a better corps of difference makers in their prime. Lavonte David remains a quality player and Devin White has shown flashes of brilliance.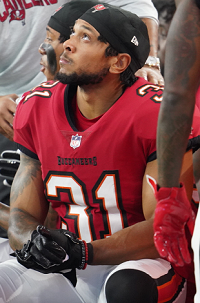 The Rams can't match that group and now L.A. must proceed without a first-round draft choice. The Lions will pick at No. 6 instead of the Rams as part of the haul for trading Stafford two years ago.
The Rams succeeded the Bucs as Super Bowl champions and now both franchises have lowered their sights. Neither is considered a legitimate championship contender at the moment as Licht and Snead maneuver for maximum financial flexibility and draft capital.
Remodel or reset — what's in a name? Let's call it like it is.
The Bucs and Rams each looked in the mirror and decided on a facelift.
Let's see how things look when the bandages come off.