Cam Brate And Playoff Lenny Bid Tampa Bay Farewell, Sort Of
March 18th, 2023
Fans have known for many weeks that long-time Bucs tight end Cam Brate was not coming back to the team in 2023. Yesterday, the Bucs made it official.
Perhaps because it wasn't official, Brate, who doesn't post a lot on social media, had been pretty quiet. After the official release was issued (along with the official release of Playoff Lenny), Brate, third all-time in Bucs franchise history in touchdown catches, broke his silence on Instagram.

Brate wasn't the only man breaking his silence. So too did Bucs AC/DC-loving general manager Jason Licht in a statement about the contributions of both Brate and Playoff Lenny during the Super Bowl run.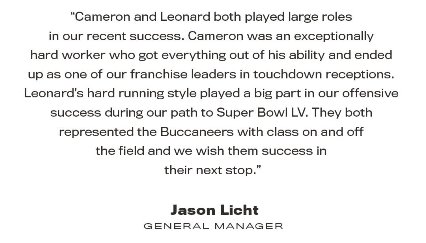 Joe doesn't think we've seen the last of Playoff Lenny on the football field. Remember, it was just one year ago that Bill Belicheat nearly got Playoff Lenny out of Tampa to play for him.
With Brate, Joe isn't so sure. Injuries really began to pile up for him, and he turns 32. He's married, lives in South Tampa and his wife has a thriving real estate business.
Joe remembers talking with Brate at length after the playoff loss to the Cowboys. He said retiring was an option.
With his economics degree from Harvard, Brate doesn't need to get the sh!t beat out of him anymore to make a decent living.
As for Playoff Lenny, he only had the following to say on Instagram on Friday with a photo of him running in a Bucs No. 7 jersey:
"See y'all real soon."
So yesterday was officially the end for two classy Bucs. They helped bring the area a Super Bowl ring. Their work won't be forgotten.