Bruce Arians On Baker Mayfield: "He's Cocky, But At That Size You Better Be"
March 27th, 2023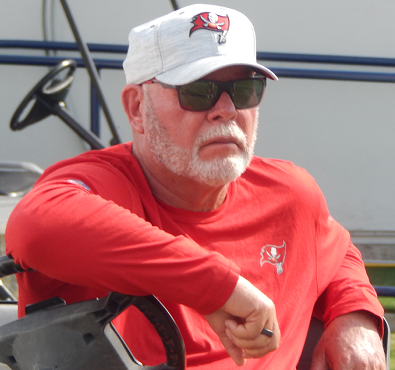 The Quarterback Whisperer at One Buc Palace, Bucco Bruce Arians, finally has weighed in on Tampa Bay's signing of Baker Mayfield.
Back in November of 2018 when he was a CBS game analyst, Arians told CBS Sports Radio that he would come out of coaching retirement for only one team: the Cleveland Browns.
"The only job I would consider," Arians said.
Mayfield was the Browns' rookie quarterback and Arians was on the broadcast for multiple Browns games that season, which led to Arians meeting with Mayfield before games and watching practices.
Six weeks after the comment, Arians was named head coach of the Buccaneers.
Per Arians' chat with JoeBucsFan.com columnist Ira Kaufman yesterday, Arians remains a huge Mayfield fan.
"Great competitor, extremely accurate, "Arians told Kaufman. "I loved his competitive spirit [coming out of college]."

Arians went on to explain how he was more of a fan after watching him up close in 2018. "I loved everything about him," Arians said.

Mayfield's brash demeanor in past seasons didn't cross a line, Arians added. "He's not a punk. He's cocky, but at that size you better be."
As for the alleged quarterback competition between Mayfield and Kyle Trask (and Joe is confident there is no legitimate competition), Arians said Trask won't be wearing a white flag.
"Kyle is not going to give in. Not a chance. It's a great situation for the franchise," Arians said.
Joe will note hearing Arians say multiple times in past seasons that teams with two quarterbacks really have none, referring to how there must a one true starter and no QB controversy.