Worst Loss
February 11th, 2023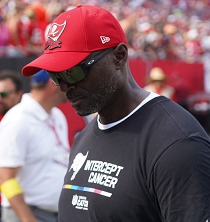 Joe hates to bring up bad memories but here we are.
The Bucs won their division and even had a primetime playoff game at home. How cool was that?
But then, when you have Tom Brady as your quarterback and a team full of Pro Bowlers and some All-Pros, present or past, you figure another Super Bowl run was in the making.
Or that's at least what fans expected.
Alas, the Bucs had a losing season — with Brady! How in the heck does that happen?
That has Bucs fans in a depression of sorts, along with Brady retiring after the season and the Bucs could be saying goodbye to key starters in the next few weeks.
So why did the Bucs have such a bad season, especially for a team that was dominant the prior two years? One could say it began with an irresponsible gameplan against the Steelers. Others will say it was a gutless performance by the offense at the Stinking Panthers. Still others would say how the Bucs gave a game away against the Browns did the Bucs in.
Kevin Patra of NFL.com, who has scoured the best wins and worst losses for each team this season, points to the Bucs getting their arses handed to them by the 49ers as their worst loss.
Worst loss: 35-7 to San Francisco 49ers (Week 14)
In his return to the Bay Area, the G.O.A.T. put up a horrific performance. The Niners picked off the future Hall of Famer twice, and Tampa didn't score a point until it was already 35-0. The Bucs allowed seventh-round rookie Brock Purdy — who was making his first career start — to dice them up; he threw for two TDs and compiled a 134.0 passer rating. The contest showed the Niners and Bucs were playing in two different weight classes.
Well, who knows how that game turns out if Brady's early bomb to Mike Evans wasn't called back on a Donovan Smith penalty and the NFL didn't have a dumbass sack rule that negated Keanu Neal's textbook sack of Brock Purdy on the opening series.
That San Francisco loss sure reminded Joe of the time the Bucs traveled to Minnesota in 2017 and got their clocks cleaned by the Vikings. The Bucs quite literally got their asses alley beaten that day.
The 49ers' loss was almost as bad. The Bucs simply got curb-stomped, physically.
If Joe had to pick the Bucs' worst loss, it was likely Cleveland, though Pittsburgh and Carolina on the road are right up there. That overtime loss to Cleveland was given away. Who takes the ball out of Brady's hands when he's marching for a win?
And because the Bucs needlessly played for overtime, two of their best players got hurt, right tackle Tristan Wirfs and safety Antoine Winfield. Joe isn't sure if Winfield ever fully recovered from that high-ankle sprain.