"We Played Some Sh**y Football Around Him"
February 12th, 2023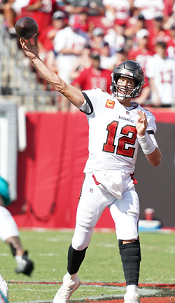 Did the Bucs play miserable football around Tom Brady this season? Or was it the other way around?
Of course, there is plenty of blame to go around after Tampa Bay followed up its 2-0 start by winning six of the next 16 games. But Buccaneers legend Warren Sapp seems to be absolving Brady for any blame for the Bucs' demise.
Sapp sat down with legendary VladTV on YouTube recently and addressed the fall of his beloved Bucs.
Sapp is not hanging it on The Goat. And yes, Sapp believes Brady is the greatest of all time. He compares him to Jim Brown as a transformative figure in the game.
"For three years we had a saying in Tampa Bay, 'In Brady we trust, because we played some shi**y football around him and he bailed us out of some sh*t," Sapp said. "I mean, he even got us to the playoffs, but boy, that was ugly.'"
Joe sure hopes Sapp is wrong, because that would mean a lot of the sh*t crafters are still in place while Brady has left the building.
Joe thinks Sapp is being far too simplistic. The Bucs had all kinds of problems this season, including the quarterback taking a giant step back from where he was in 2021. Heck, Bucco Bruce Arians said last week that head coach Todd Bowles' philosophy "didn't match" this season. How is a team supposed to overcome that?