Todd Monken Lands In Baltimore
February 14th, 2023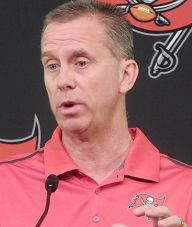 It turns out University of Georgia offensive coordinator and former Bucs playcaller Todd Monken really did want to return to the NFL and leave his sweet college gig.
The Baltimore Ravens announced Monken is their new offensive coordinator. He had interviewed with the Bucs last month for the same job after Byron Leftwich was fired.
Joe gets the allure for Monken in Baltimore. Great coach and great quarterback, assuming Lamar Jackson and the Ravens came come to terms on a contract. And Joe assumes Monken got a hearty raise. In Tampa, Monken faced a lot more uncertainty, perhaps too many ifs and buts.
Joe wishes Monken well — at the Ravens and where he'll surely be found on an off day or two, Pimlico Race Course.