Lavonte David Talks Belief In Todd Bowles, Offseason Losses & Bowles Taking Charge
February 15th, 2023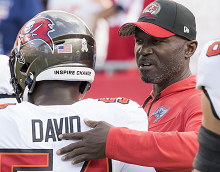 Iconic Bucs linebacker Lavonte David sure dropped a few interesting takes on how he perceives Todd Bowles as a head coach.
David hopped on CBS Sports Radio and had plenty to say when host Zach Gelb asked him about his confidence in Bowles as the top dog, not the defensive coordinator.
"I do believe in [Bowles] as a head coach. I really do," David began. "Because his personality, you know, a lot of people see him as a smooth, cool-demeanor-type guy, but the way he leads, I really respect it. And a lot of guys across the locker room respect it as well. Just the way the season went, it was just unlucky for us. And I feel like a lot of things just didn't go our way. Obviously, with injuries and things like that, obviously the second day of training camp we lost one of our best players on our team losing our center. That was a huge piece of what we do on offense. And then, you know, on defense we lost key pieces in [Ndamukong] Suh; we lost JPP. And then a lot of turnover in the secondary, guys getting hurt … and stuff like that. So all that plays a part in it. But a lot of guys in the locker room respect Todd Bowles for what he is and his daily approach.

"And, you know, sometimes I feel like [Bowles] kind of like was thrown in the fire in a sense with [Bruce Arians] retiring. He just had to, you know, pick up with that and not really taking control and doing things the way he wanted to do it, and have everything go the way he wanted it to go. As you can see, a lot of stuff is changing this year, so we're going to see how it goes."
Lotta meat on that David buffet. Were the losses to Suh and JPP that significant? JPP played the 2021 season with one arm, missed five games and was a shell of himself. Suh's production was never replaced and the Bucs' run defense regressed.
As for Bowles not getting to do things the way he wanted to do it, Joe gets that Bowles was blindsided into grabbing the head coaching job in late March, but would he really have made significant changes if he got the job seven weeks earlier?
It's hard to say. Perhaps Bowles would have changed a couple of assistant coaches and influenced a different outcome early in free agency, like adding a pass rusher instead of Russell Gage.