Jason Licht Talks Trades And Value Planning
February 28th, 2023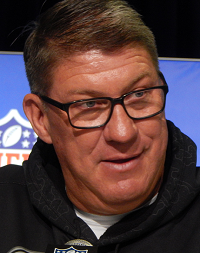 The Bucs must shed more salaries, (you'll be missed, Playoff Lenny) and an overlooked option is trades.
Joe asked Tampa Bay general manager Jason Licht about trade potential today and he seemed to lean more toward a trade on the defensive side of the ball.
"Our plan does not involve trading a lot of players," Licht said. "So, if we've got some good young players that are really contributing and we feel are going to be instrumental in helping the new quarterback, I'm not interested in just trading away."
Licht made it clear Ryan Jensen is returning. And Joe suspects the offensive line won't be touched outside of Donovan Smith getting cut, which JoeBucsFan.com columnist Ira Kaufman said was a sure thing last week.
And Licht's comments today sure sounded like he's keeping his hands off the three top dogs of his receiving corps, so that points to a potential trade on defense.
Might the Bucs consider moving Carlton Davis, re-signing Jamel Dean and using the pick (third round?) Davis returns to draft a cornerback? That would save a ton of cap room in 2024 and a little this year.
Ahh, the speculation can go in endless directions.
Licht said one thing is certain about the Bucs' offseason. They're looking for deals. "We're going to be looking for value. And that goes for all positions, for the most part," Licht said.