It's Official! Rondé Barber Is A Hall Of Famer!
February 9th, 2023
BY IRA KAUFMAN
He's in, and he may have shut the door behind him for a while.
Rondé Barber, one of the most versatile defensive backs the NFL has ever seen, will soon sit down with a sculptor for his bust in Canton. The third time was indeed the charm, but there were anxious moments during that 7-hour, 30-minute zoom call as I joined 48 other voters to select the Pro Football Hall of Fame Class of 2023.
By now, you should be aware Barber was awarded a gold jacket in his third year as a finalist. It shouldn't have taken that long because he was a historic player in terms of production and durability. He also happened to invent a position.
Barber wasn't the first nickel back in NFL history, but he remains the prototype. He set the bar for the hundreds of slot corners who tried and failed to play up to his unprecedented standard.
But there was trouble elsewhere on the ballot.
A maximum of five modern-era candidates can be elected in any class and Darrelle Revis was on the list of finalists in his first year of eligibility. Revis was a true shut-down corner, probably the best since Deion Sanders. His coverage skills were the real deal. He took on the opposition's best receiver and made him disappear.
Even Tom Brady in his prime thought twice about challenging Revis.
That was Revis' job — and he was great at it. Nobody complained that he offered little in run support and was no factor as a blitzer.
Revis was a shut-down corner. Barber was a complete corner. Both needed to get in.
But there was another compelling corner on the ballot. His name is Albert Lewis and he played for the Chiefs and Raiders between 1983 and 1998.
Lewis had some powerful advocates among the voters and this was his last year as a modern-day candidate. If he didn't make it to Canton, he'd tumble into the senior pool — filled with worthy players who slipped through the cracks.
There was a lot of sentiment building for Lewis and if he and Revis earned passes to Canton, it was unlikely that voters would ultimately select three cornerbacks. The odd man out could be Barber.
That's didn't happen because Barber's accomplishments simply demanded to be acknowledged.
He's still the only player with at least 45 Interceptions and 25 sacks. His 14 non-offensive TDs are fourth all-time and that doesn't count the pick-6 that shut down the Vet and lifted the 2002 Bucs into the Super Bowl. Fourteen TDs from a cornerback? Champ Bailey, a first-ballot Hall of Famer, finished with four.
Barber could cover, blitz and tackle, all at a Hall of Fame level. Let's start with coverage.
Barber ranks third all-time with 197 passes defended. In 2001, Barber tied for the league lead with 10 interceptions. It took 20 seasons and Trevon Diggs for anyone to top that total.
Barber ranks No. 10 all-time in career tackles, first among defensive backs. His 88 tackles for loss are once again, first among defensive backs. Revis had 9.
Finally, we come to durability and Barber is historic there, too. In his final 15 seasons, he never missed a game and rarely missed a tackle, posting 215 consecutive starts.
"Ronde's consecutive start streak will never be broken by another defensive back," says Mike Tomlin. "It's like Cal Ripken."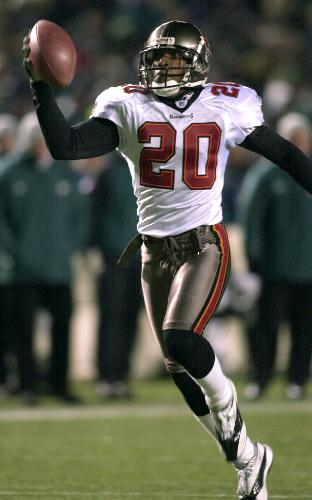 Barber was a key component on the best defense of its era, an outside corner who moved inside on third down and controlled the middle of the field. Why did the Bucs move him to nickel on the money down? Not to hide him … to accentuate him.
"That team was built around Sapp, Brooks, Barber and Lynch," says Brett Favre. "What a damned defense. I hated playing against those guys and Ronde was a big reason why. He's the best nickel that's ever played."
Barber's only contemporary in terms of versatility, Charles Woodson, sailed into Canton in his first year of eligibility. Barber had been waiting since 2018.
"When you look at our numbers across the board, there's a lot of similarities there," says Woodson. "That's a testament to our versatility, football IQ and toughness. When you're a rarity at that level for that long a time, you have to be in Canton."
Buc fans will be heading up to Ohio this summer to honor No. 20. It promises to be quite a reunion and Barber has already selected his brother, Tiki, to be his presenter.
Brooks is pushing for Simeon Rice to make it five Hall of Famers off that marauding defense. With 122 sacks, Rice stands No. 21 on the all-time list and he was very good in the postseason, but Rice has a tough road ahead of him.
Jared Allen (136 sacks) is still waiting his turn and Dwight Freeney (125.5) became a finalist this year. The top first-year eligible for the class of 2024 is Julius Peppers and J.J. Watt will be along in five years.
Rice's last season was 2007 and his case has never been discussed. He's been named a semifinalist only once and he faces a lot of competition as a stellar edge rusher. Perhaps Ndamukong Suh will get a look five years after his retirement. Mike Evans and Lavonte David are building strong Canton resumes.
That's way down the line. Rondé Barber is here and now.
Enjoy the moment.