Inside The Ryan Jensen Journey
February 3rd, 2023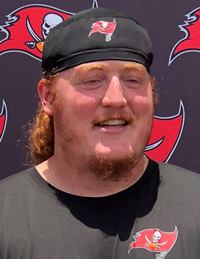 Man, one hell of a feature was penned by national NFL writer Dan Pompei on nearly everything you might have wanted to know about Ryan Jensen's return to the field last month after a horrific knee injury in late July.
Great (and long) stuff by Pompei at TheAthletic.com.
Joe finds it very cool how the Bucs weren't counting on Jensen playing in January and how him being activated to practice three weeks prior to the game might have been more about team morale than a guy getting closer to the field.
Among other things in the feature, Jensen painted a picture of Tom Brady and Brady's training guru Alex Guerrero pressing him to play against Dallas, and of Guerrero convincing him his hurdles were mental rather than physical.
Jensen's long road to return started after several recommendations for surgery were overruled by a retired surgeon who believed Jensen's knee was so messed up that surgery would have been counterproductive.
He referred McCartney and Jensen to Don Shelbourne, an Indianapolis orthopedic doctor who pioneered the non-operative approach that Prodromos thought would work for Jensen.

Shelbourne concurred with Prodromos that surgery might not be necessary; his research has shown tears of the MCL and PCL can heal with immobilization and therapy, and the ACL needs repair only if completely torn. Whether Jensen's ACL was completely torn wouldn't be known for two months while the swelling subsided.

Prodromos also believed stem cell infusion could strengthen Jensen's ligaments and accelerate healing.

If everything goes well, Prodromos and Shelbourne told him, Jensen should be able to resume his career in September of 2023. Both doctors strongly advised him to forget about the 2022 season.

Shelbourne put Jensen in a cast from his ankle to upper thigh with his knee bent at a 23-degree angle. He was told to remain relatively inactive for nine days, so he stayed at the J.W. Marriott in Indianapolis. His wife, Stephanie, returned to their children, Wyatt and Eliza, in Florida, which left Jensen with a lot of time to think, probably too much. What he pondered mostly was the possibility of retiring.

He had incentive to quit. Before the 2021 season, he took out an insurance policy that covered him for a career-ending injury. By retiring while injured, he could collect a $5 million payout. What's more, $23 million of his contract was guaranteed whether he played or not.
Amazing stuff from Jensen, who miraculously played every snap in that Dallas game.
Joe can't wait to see what Jensen delivers next season, assuming the Bucs bring him back and pass on tanking for a high draft pick. Jensen is not the kind of guy who deserves to be stuck on a team not trying to win.