Welcome Back, Todd Bowles!
January 1st, 2023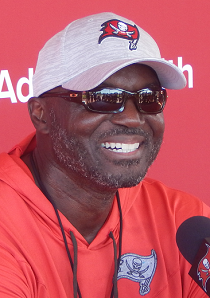 Congratulations, Todd Bowles. Joe is confident you just locked up a second season as head coach of the Buccaneers.
The Bucs' 8-8 record is nothing to celebrate, but a division crown is. And a defense getting the job done without its top pass rusher and cornerback, in addition to banged up players, is worthy of a several high-fives.
The goal of every franchise is to win its division and peak in the postseason. The Bucs, while it doesn't look very pretty, are trending in that direction.
Plenty of fans think Bowles is hot garbage in his new role. Joe gets it because Bowles has underachieved with a top-shelf quarterback. Joe thinks Bowles is maybe worthy of a "C" through 16 games. But Joe is sure Team Glazer will think positive, appreciate what's been accomplished and hope Bowles will grow from however this season finishes.
Yes, Joe believes Bowles was in dangerous territory if the Bucs missed the playoffs. Now he's on stable ground.
Based on how Bowles and Tom Brady do not interact on the field, and Brady's faces when Bowles decides to punt, Joe isn't sure Brady thinks Bowles is his kind of coach. But he will have to be if Brady wants to keep throwing to the likes of future Hall of Famer Mike Evans and Chris Godwin, and enjoy the all the joy that life in the bumbling NFC South can bring.