Warren Moon: Dead Running Game Will Stall A Bucs Playoff Run
January 10th, 2023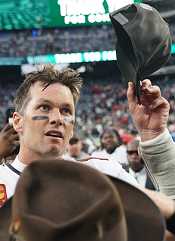 The Bucs reached the playoffs with the worst NFL rushing attack (by every reasonable metric) and can win on Monday night against Dallas without one.
That was the mindset of Hall of Fame quarterback Warren Moon during his recent chat with TMZ Sports. Moon thinks the Bucs are putting a ton on Tom Brady, who can handle it, he said. But that won't get the Bucs much past wild card weekend.
"It's going to be hard [to advance to the Super Bowl] if they're going to be one-dimensional. I think they have to be able to find a running game somehow, some way, not put it all on his shoulders because now you're talking about playing some of the best pass rushers in the league," Moon said.
Moon referenced the Eagles and 49ers specifically, and he added that Brady's lack of mobility with the Bucs' offensive line challenges would lead him to endure too much punishment to realistically land in the Super Bowl throwing 50 times a game.
Joe agrees with Moon. The Bucs' odds of reaching the promised land would improve significantly if shots on Brady are limited. And Brady's QB life would be lot easier if the Bucs could stay out of 3rd-and-long with the help of a run game.
How bout shocking the NFL with an average running game this month, Bucs?